Dr. Steve Tatevossian
Redlands, CA dentist, Dr. Steve Tatevossian offers general, restorative, and cosmetic dentistry to patients throughout the San Bernardino and Riverside communities, and beyond. A graduate of Loma Linda University School of Dentistry, "Dr. T" as referred to by his dedicated staff and loyal patients, is highly-skilled and trained to perform the latest dental treatments. His spectrum of offerings goes beyond general dentistry to include full mouth restorations, cosmetic dentistry, including smile makeovers, orthodontics, as well as periodontal treatment for gum disease. His compassionate and professional bedside manner creates an experience for his patients that leave them feeling assured and confident. Dr. Tatevossian consistently pursues on-going training and certifications, and spares no expense in upgrading his technologies so that he can offer the best dental care possible. His goal is not only a beautiful smile, but outstanding oral health that carry his patients through every decade of life.
Meet Dr. Tatevossian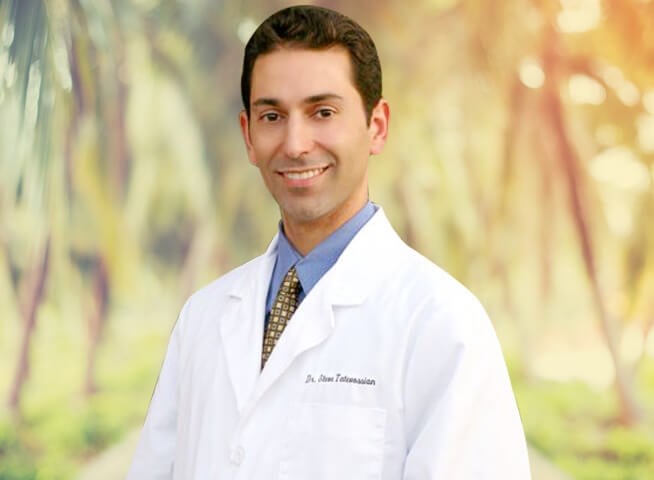 Reviews
Dr. T and his staff provide excellent customer service. I found out about Dr. T after he conducted a presentation at my myeloma support group meeting. Honestly, I almost gave up on dentists! I've had a problem with one of my front teeth (#22) for years. I've had 3 fillings and a CT scan on it with dentists telling me there is no problem with it after the fillings. Dr. T was the only dentist that diagnosed it as a severe infection in the root. I had a two part root canal on it. Although I'm still recovering and it's still tender, the throbbing is gone. I'm on Medicare and he only accepts PPO insurance, but he offers a wonderful plan for cash paying patients. I'm not going to anyone else from this point on. Dr. T. and his staff are very caring and knowledgeable. He even called me on his cell phone on the Saturday after my root canal to check on me. I was pleasantly shocked. When I call the office with questions about my tooth, Dr. T returns my call. I couldn't ask for better service.
Everyone one there is wonderful
Fantastic and professional doctor and staff!
I had an extraction done at another dental facility. They failed to inform me that my stitches were non-dissolveable. My boyfriend goes to King House Dental and luckily mentioned my situation during a visit and his dentist, Dr. Tatevossian, told him he would be happy to check it out...no appointment needed which blew me away. The staff was great, super friendly and very accommodating. Dr. Tatevossian quickly realized if my stitches stayed in any longer I was risking an infection. He took them out immediately. He truly cares about people, I'm not even his patient! I wish I could be, however, I have the wrong dental provider. I highly recommend King House Dental!
We love Dr T. He won my husbands heart when he called after his surgery to check on him.
4.9
170 Total Reviews
ABOUT KING HOUSE DENTAL
Serving patients throughout the greater Redlands, CA area, King House Dental is not your everyday dental practice. Situated in a historic landmark house, but upgraded with the most advanced dental technologies of today, King House offers a relaxed, quaint experience for patients, blended with the latest procedures and techniques, and overseen by a wonderful, caring staff. The American Dental Association (ADA), the Center for Disease Control (CDC), and the Occupational Safety and Health Administration (OSHA) provides our Redlands dental office with highest standards to help keep infection under control. We also understand that many individuals fear the dentist and experience anxiety during their appointments. For this reason, we have highly-trained professionals to help create calming, effective dental care with sedation dentistry when needed. Providing patients with cosmetic and family dentistry services, Dr. Steve Tatevossian is dedicated to helping patients restore and enhance their smile's natural beauty. We invite you to take a tour of our amazing dental facility.
Learn More